Cold Weather is bearing down upon Ft Myers, and the entire SW Florida region quickly.  There are predictions thatthe temperatures could dip into the low thirties tonight.  While not a record, it has been a while since we have seen temps that low.  It's always important to have your home's heater working properly, but, it's never more important than it will be this week.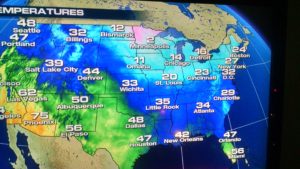 Cold Weather tonight! Expected lows near freezing!
When cold weather strikes there are some genuine opportunities to make some bad decisions.  Don't let your need for warmth convince you to do something foolish, in an attempt to warm up, that you normally wouldn't do.
Don't use charcoal or propane grills inside.
Don't use an electric oven with the door open for heat.
Inspect electric space heater cords before use.
Keep all flamable material well away from heaters.
Pets and small potted plants should be brought inside for the night.
" …fixing the heater typically happens quickly, and doesn't usually require expensive replacement parts …"
To be certain your HVAC equipment is ready to face the challenges of winter it is a good idea to have it looked over, before the cold weather  arrives,by a licensed air conditioning contractor.  Often times, once the weather turns cold, ac contractors are overwhelmed with calls and must resort to a "first come … first served" basis,  nobody wants that on the coldest night of the year.  An inspection of your heating equipment should include:
Checking the thermostat for proper settings and operation.
Inspecting the wiring for proper installation and connections.
inspecting the element for proper operation.
We believe in putting our clients needs first, earning your trust, and making sure we provide a level of service that ensures you will call us again the next time!
We guarantee all our repairs and offer a Free Second Opinion
Our Motto is…"We won't send you a wolf in sheep's clothing …
just an honest professional"
Call Today For Reliable, Expert Service
239-267-2117